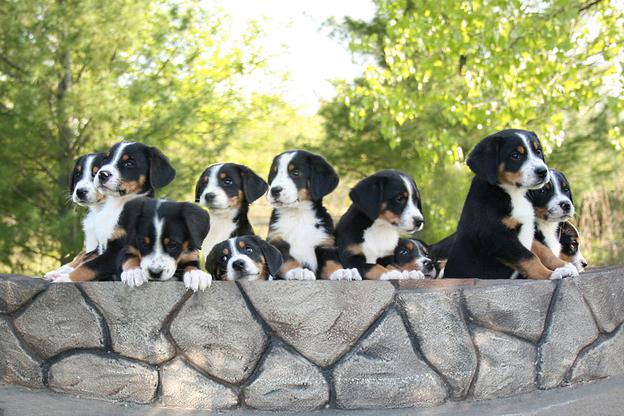 WELCOME TO BLACKAMBER

HOME OF GREATER SWISS MOUNTAIN DOGS

And Future Breeder of Danish Broholmers

We are a small, at home, show and working kennel. We are located in Appleton, Wisconsin in "Cheesehead Country", less than an hour from Green Bay. Our family consists of myself, my husband, and our two children, ages 9 and 12 years, along with our dogs and two cats (one  big lazy Ragdoll and one wild n crazy gray and white tabby kitten). All our dogs live in our home as members of our family.  We take our dogs with us to as many pet friendly family events and outings as we possibly can.  We actively show our dogs in numerous canine competitions, such as, Conformation, Obedience, Rally, Agility, Pack Hikes and Dock Diving.  Drafting, and Weight Pulling are also areas that we will  be embarking on in the near future  To say that our dogs "keep us busy" is a complete understatement. While we enjoy the time spent with our dogs showing and competing in all these fun filled endeavors, it is our daily family life with them that we find most rewarding of it all. First and foremost, they are our family companions, and sharing our love with them brings us the most joy. We especially love taking our dogs for quiet walks through our beautiful Wisconsin State Parks.

Top Quality Greater Swiss Mountain Dogs

We are active members of the Greater Swiss Mountain Dog Club of America, as well as, the Lake Shore GSMD club. We love the Swissie and have only the best interest of the breed at heart. We only have puppies on occasion and all litters are planned well in advance, with great care taken in choosing the best matched parents.       We  only  breed the finest  Champion and Health cleared parents that are sound in both mind and body.  Our goal is to produce Swissies that are not only gorgeous, with correct breed type, but also healthy long lived family companions, with confident, devoted and loving temperaments. All our puppies are extensively socialized and will go through a complete structure and temperament evaluation.  We want only the best homes for our Swissies and are very selective in the families we choose.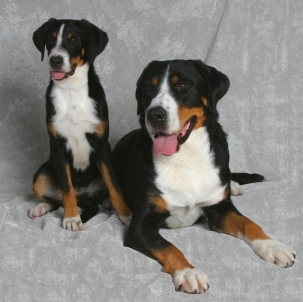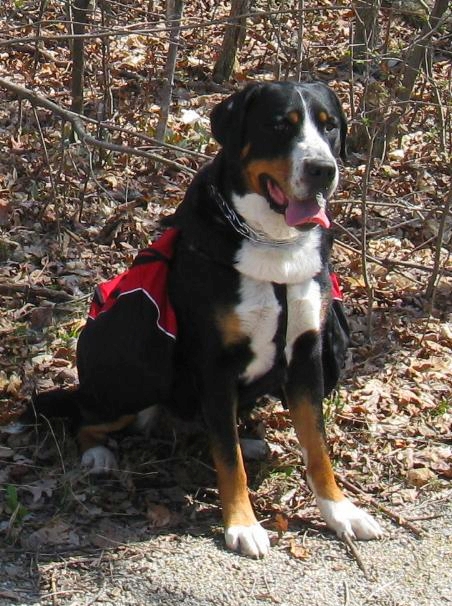 Thank you for visiting our site and we hope you enjoy our beautiful Greater Swiss Mountain Dogs. Be sure to visit our "Future Litters" page if you are interested in getting a puppy from us. If you would like more information  about us and our family selection process please contact us   We look forward to hearing from you.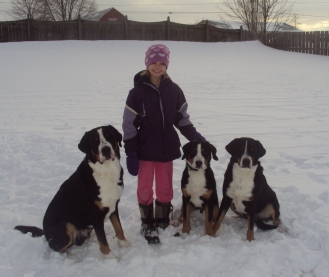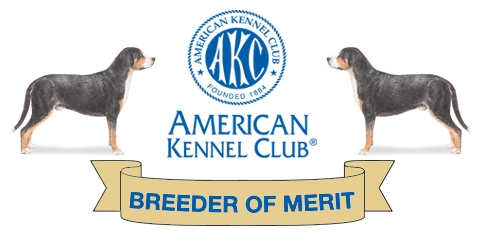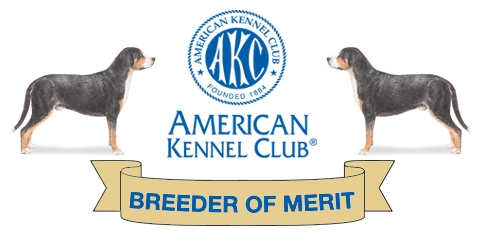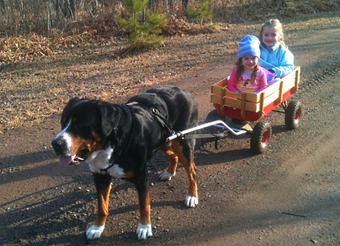 Pictured above is 'Henry' CH Blackamber Keep On Choogin' pulling his two favorite girls in the wagon.  Henry is from our Carl x Jayda litter and is a wonderful example of the breeds exceptional temperament with their family members, especially children. Henry is owned and loved by the Hart family.